Dawn Dugle, Author
Dawn Dugle is an energetic, optimistic truth-teller who is also incredibly stubborn when it comes to looking on the bright side. She has been focused on positive storytelling ever since she could write.
She has a lot in common with soap opera goddess Susan Lucci - both were nominated for multiple Emmys. Unlike Lucci, Dawn hasn't won her Emmy - yet. She has brought home 67 awards for storytelling, including an Edward R. Murrow award for digital news excellence.
During the pandemic lockdown, Dawn decided to embrace her inner romantic and dive right into writing romance novels. The first book in the Flamingo Cove series, A Hot Flash of Homicide, debuted in the Top 500 on Amazon and keeps garnering rave reviews for the series.
In her spare time, she is the personal minion for her cat Gabriel, who secretly thinks he's a dog.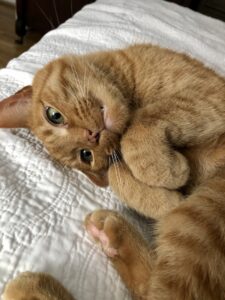 Don't let the cute face fool you. Gabe is secretly plotting to take over the world. Trouble is, he's only eight pounds, cuddly and doesn't like to go outside. Makes it hard to get that "world-domination plot" going.
Dawn has been featured in...
Austin-American Statesman
Jackson Free Press
TLC (The Learning Channel)
Fox13 - Tampa
CBS42 -Austin
WTMJ-4 - Milwaukee
Mississippi Public Broadcasting
SuperTalk Mississippi